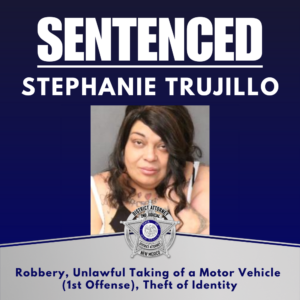 Stephanie Trujillo Sentenced
Today a judge ruled Stephanie Trujillo will be sentenced to the Department of Corrections for four years after her involvement in a robbery April 15, 2021.  Trujillo and her brother set up an online profile to lure the victim to a motel where they held the victim at gunpoint and took his car keys and wallet.
Trujillo used the ATM card to withdraw money. Surveillance video from the ATM led to her capture.  After serving four years in prison, she will have to complete a drug treatment program.