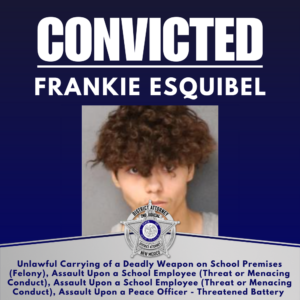 MAN WHO BROUGHT GUN ONTO HIGH SCHOOL CAMPUS – CONVICTED
MAN WHO BROUGHT GUN ONTO HIGH SCHOOL CAMPUS – CONVICTED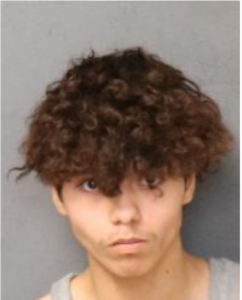 A jury convicted Frankie Esquibel of multiple criminal charges.
On April 14, 2022, Defendant Frankie Esquibel drove to the staff parking lot of Rio Grande High School. School staffers, knowing he did not attend that school, approached him and asked him to leave. In response, Esquibel told the staff he had a gun and was going to shoot up the school. Part of his belligerent behavior was caught on video. When police arrived, Esquibel took off on foot. When police searched his vehicle, they found a firearm readily accessible in the back seat, on school premises.
Esquibel was convicted at trial of the following offenses:
1.   Unlawful Carrying of a Deadly Weapon on School Premises (Felony);
2.   Assault upon a School Employee (Threat or Menacing Conduct);
3.   Assault upon a School Employee (Threat or Menacing Conduct);
4. Assault Upon a Peace Officer (Threatened Battery)
"Our office has a ZERO tolerance for guns on school property.  We are thankful a jury believes in putting the safety of students and faculty as a priority and found Mr. Esquibel guilty of these crimes," said Bernalillo County District Attorney Sam Bregman.
"Our prosecutors work very hard to do their best to keep our community safe – especially at schools where no student should feel they're ever in danger," Bregman said.
Esquibel will be sentenced at a later date.