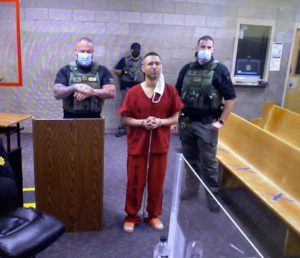 Man Charged with Shooting Plot Targeting Multiple Elected Officials Makes First Court Appearance
Man Charged with Shooting Plot Targeting Multiple Elected Officials Makes First Court Appearance
Albuquerque, NM – Solomon Peña made his first appearance in court today in connection with the case. He's charged with Felon in Possession of a Firearm, Criminal Solicitation, 4 Counts of Shooting at an Occupied Dwelling, 4 Counts of Shooting from a Motor Vehicle, Attempted Aggravated Battery with a Deadly Weapon and Conspiracy.
Police say Peña targeted multiple elected officials in Bernalillo County over the last two months, where gunshots were fired at their homes and businesses.
Today Metropolitan Court Judge Jill Martinez said Peña will remain behind bars until a formal detention hearing in this case. That hearing will take place in Bernalillo County District Court. The date for the hearing has not yet been determined.
Bernalillo County District Attorney Sam Bregman said he will personally prosecute Peña's case.