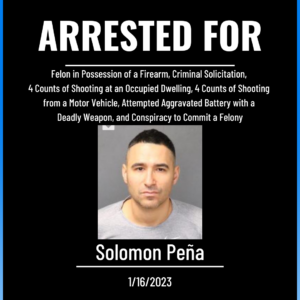 Former Political Candidate Charged in Connection With Shooting at Homes, Businesses of Elected Officials
Former Political Candidate Charged in Connection With Shooting at Homes, Businesses of Elected Officials
Albuquerque, NM – Tonight, Albuquerque Police announced the arrest of Solomon Pena in connection with shooting at homes and offices of multiple elected officials in Bernalillo County in the last two months. Pena, a Republican, ran unsuccessfully for the New Mexico House of Representatives last November. Police say Pena recruited at least four other people to help commit the crimes and say the shootings were politically motivated.
"I applaud the officers of the Albuquerque Police Department who worked nonstop to make arrests in this case. Our office worked night and day with APD on this investigation," Bernalillo County District Attorney Sam Bregman said.
"Any attack on an elected official is an attack on our democracy," Bregman said.
The District Attorney's Office will continue to work diligently on this matter. An arrest is an allegation. A defendant is presumed innocent unless and until proven guilty. Pena will face a judge at a felony first appearance within 48 hours to be formally advised of the charges against him.