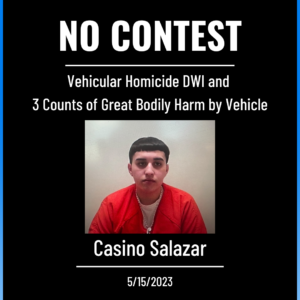 Casino Salazar Pleads No Contest
No Contest – Fatal DWI crash
Today Casino Salazar pled no contest to Vehicular Homicide DWI and 3 counts of Great Bodily Harm by Vehicle.
In November 2021, Salazar was speeding on Montgomery when he ran a red light, crashing into a car driven by Kevin Barton. Barton was killed in the crash.
Salazar faces up to 18 years in prison. Sentencing will take place at a later date.