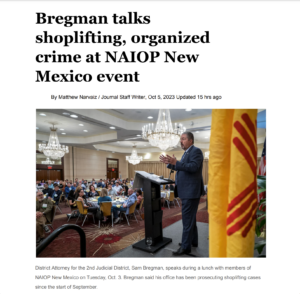 Bregman talks shoplifting, organized crime at NAIOP New Mexico event – By Matthew Narvaiz/ABQ Journal Staff Writer
Second Judicial District Attorney Sam Bregman told business leaders on Tuesday that shoplifting is one of his office's biggest concerns, and he is hopeful a new law allowing prosecutors to up the severity of the charges against the suspects will become a useful deterrent.
"Shoplifting — I have to tell you, I think this issue I've been asked about more than any other issue since I've been DA in the last nine months," Bregman said, addressing business leaders gathered at a lunch hosted by NAIOP New Mexico. "It's so destructive to businesses — small and large businesses — but it's also damn scary for anybody in the store to see shoplifting going on right in front of them. It's extremely troubling, and it tears at the fibers of this community in every single way."
Bregman's appearance before business leaders at Tuesday's event in Albuquerque came at the last minute. He filled in for Gov. Michelle Lujan Grisham, who was originally slated to speak but had tested positive for COVID-19 following a business trip to Taiwan last month.
For Bregman, who announced this summer his plans to run for DA after being appointed by the governor to fill the post left by now-Attorney General Raúl Torrez, his NAIOP appearance follows others made to business and law enforcement officials in the past two months.
He was the keynote speaker for the Economic Forum of Albuquerque in mid-September. And he also spoke at the Law Enforcement Summit hosted by the Greater Albuquerque Chamber of Commerce later that month, which saw law enforcement officials and prosecutors from across the state gather to talk for hours about solutions and obstacles to fighting crime.
During his appearances, Bregman stressed that brazen shoplifting hurts businesses and also can terrify shoplifters. A video taken at a Walgreens in Albuquerque over the summer went viral when it depicted a group of men brazenly taking bottles of liquor and loading them into bags before leaving without paying. Police later made arrests in the case.
Bregman said retail crime legislation, House Bill 234, went into effect in July and is being used regularly. That legislation allows for suspects in multiple cases to be charged for the grand total of the items they steal. That allows prosecutors to pursue felony charges against repeat shoplifters, rather than just multiple misdemeanors. Bregman said 35 people have been charged under the statute so far.
At the NAIOP event, Bregman told business leaders his office recently changed policies and has been prosecuting shoplifting cases since the beginning of September, and that his office has so far seen 59 cases since that change was made. Historically, officers typically prosecuted the cases in Metropolitan court. He said those cases had a conviction rate of around 15%.
"When 85% of the people who are shoplifting have no consequences whatsoever, what do you think they're gonna do? They're gonna keep shoplifting, right?" he said. "From now on, there will not be a shoplifting case in Bernalillo County which we are not prosecuting."