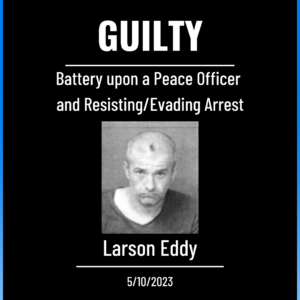 GUILTY
Today a jury found Larson Eddy Guilty of Battery upon a Peace Officer and Resisting/Evading Arrest.
On September 23, 2022, Eddy called 911 telling dispatchers he was going to "grab his [AR-15] and take care of business."
The dispatcher could hear Eddy cocking the AR and had concerns as he was making homicidal and suicidal statements.
After a three hour standoff, police arrested him.  While in custody, Eddy head butted the officer, dislocating the officer's shoulder.