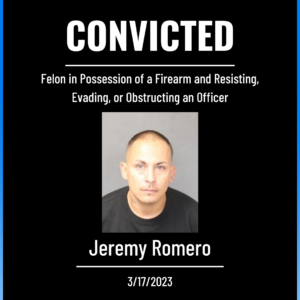 GUILTY
Today a jury convicted Jeremy Romero of being a Felon in Possession of a Firearm and Resisting, Evading, or Obstructing an Officer.
On August 27, 2022, two APD officers attempted to legally apprehend Mr. Romero as he took off running.
After a short foot pursuit, Mr. Romero voluntarily gave himself up. Police found a loaded firearm in his pants pocket.
Mr. Romero is a habitual offender who is now facing 8 to 12 years in the New Mexico Department of Corrections.