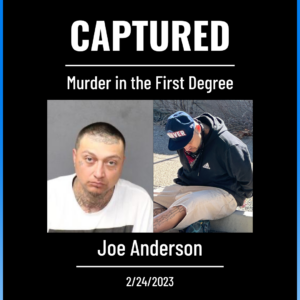 CAPTURED – MURDER SUSPECT WHO WAS RELEASED FROM CUSTODY THEN WENT ON THE RUN HAS NOW BEEN CAPTURED.
Today police apprehended Murder Suspect Joe Anderson near I-25 and Montgomery, the same area where Anderson cut off his ankle monitor two weeks ago, then went on the run.
Investigators say Anderson was found today in a stolen vehicle.
Anderson had been a fugitive since February 7, hours after the New Mexico Supreme Court ruled the first degree murder suspect with a violent criminal history should be detained until trial.  The New Mexico State Supreme Court overruled the District Court's earlier decision in January to release Anderson pending trial.
After requesting the Court issue a warrant for his arrest, Prosecutors learned Anderson cut off his ankle monitor, and went on the run from law enforcement.
Anderson has also previously been convicted of a separate crime of voluntary manslaughter in 2016.
"We are grateful to the Albuquerque Police Department for all their hard work on this case.  Now the community is safer because a man with a very violent criminal history will be back where he belongs – behind bars," said Bernalillo County District Attorney Sam Bregman. "This violent and dangerous man who had already been convicted of killing someone, should have never been released from custody. This system must change," Bregman said.