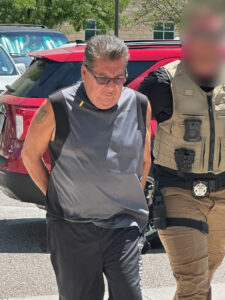 Agents with the Bernalillo County District Attorney's office arrest school bus driver linked to four cold case rapes in NE ABQ in the 1980's and 1990's.
Special agents with the Bernalillo County District Attorney's office arrested 61 year-old Ralph Anthony Martinez today after forensic genetic geneology DNA investigation linked him to multiple rapes that occurred in Albuquerque more than three decades ago.
Martinez, works as a school bus driver with APS.  This year, Agents with the District Attorney's Sexual Assault Kit Initiative Team (SAKI)  collected DNA from the school bus steering wheel, gear shift and switches on the bus Martinez drove.  Agents say that DNA matched the DNA evidence collected from the sexual assaults in 1988, 1989 and 1991.
BACKGROUND
In October, 1988, the 19 year-old victim was sleeping at her home in the 1700 Block of Wyoming NE, when a man broke in, told the victim he had a knife, and raped her.
On August 3, 1991, a 35 year-old woman was sleeping in her home in the 8000 Block of Aspen Ave NE, when a man broke in, used the victim's own gun to threaten her, then raped her.
The victim escaped to a neighbor's home.  The suspect ran away, leaving his underwear and shirt in the bedroom where the rape occurred.
On August 7, 1991, the 18 year-old victim was sleeping in her apartment in the 5300 block of San Mateo NE, when a man broke in and sexually assaulted her.
All three victims went to the hospital where sexual assault kits were collected.
Agents linked Martinez's DNA to a 4th sexual assault, but that victim is now deceased. That crime happened in 1989 at Snow Heights Blvd. The victim was 59 years-old at the time of the sexual assault.
"I am really proud of the hard work our Sexual Assault Cold Case Unit is doing (SAKI).  We hope this brings some amount of justice to these women and their families," said Bernalillo County District Sam Bregman.
All defendants are presumed innocent unless and until they're proven guilty in a court of law.