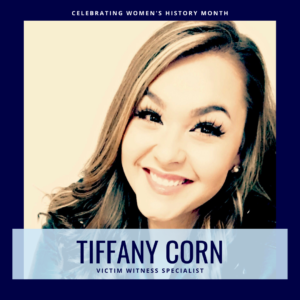 Women's History Month: Tiffany Corn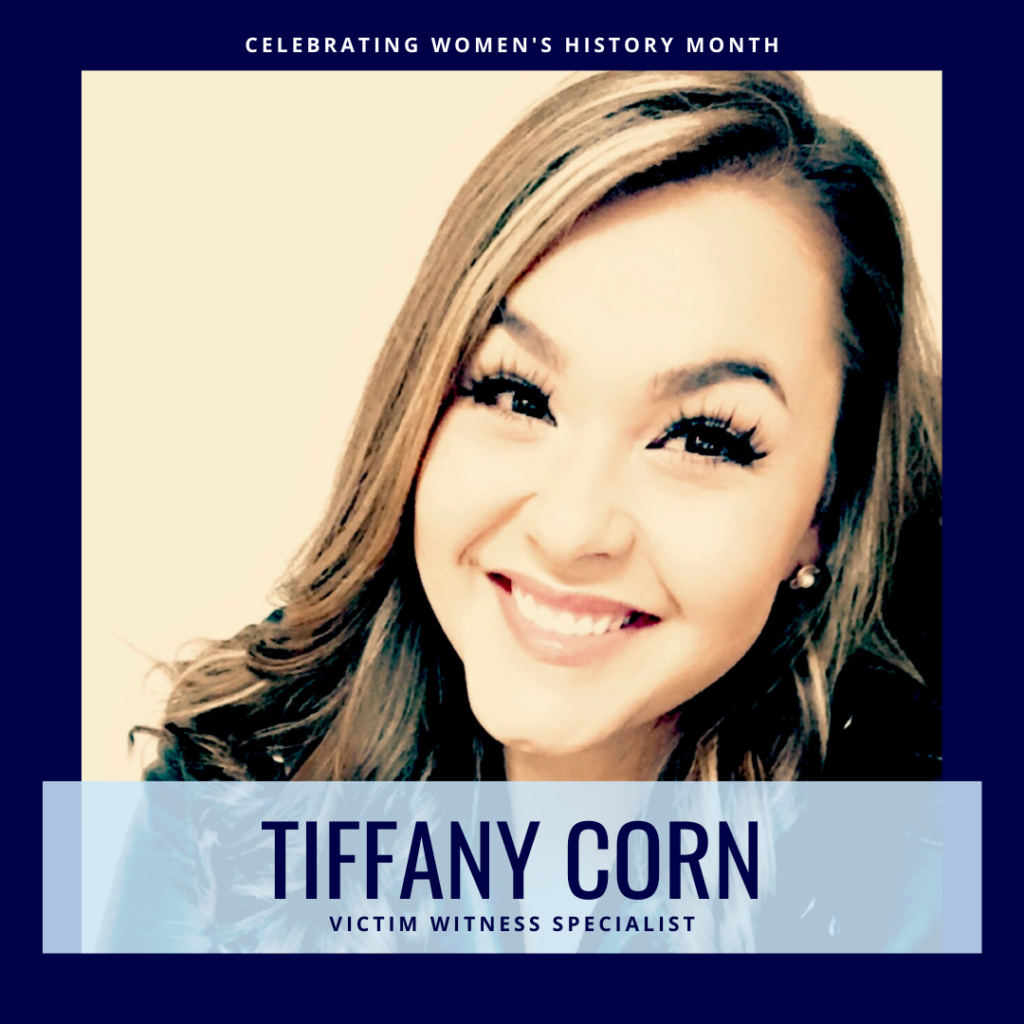 Meet Tiffany Corn, Victim Witness Specialist for our Major Crimes Division. Tiffany was born and raised in Roswell, N.M. eventually moving to Albuquerque ten years ago to help a family member who was almost killed after being kidnapped and robbed. The severity of the situation and the lack of prosecution opened her eyes to the reality of what survivors of crime have to endure. She decided that she wanted to contribute to the betterment of their treatment and experience after their trauma.
Tiffany has been employed almost a decade with our office starting out as a secretary. She then transitioned into the role of a Victim Witness Specialist where she has received many accolades including; the 2019 State Bar of New Mexico's Non-Lawyer Service Award, training University of New Mexico Resident Physician's on Intimate Partner Violence, media interviews related to child testimony in the New Mexico Judicial System, and Legislative testimony on House Bills aimed to protect victims.
Tiffany finds her career rewarding as she is able to work with diverse groups within our community from human trafficking survivors, to domestic violence, homicides, sexual assaults, and crimes against children where she has spent the majority of her career. Victims of crime have only a dozen legal rights in the criminal process, so system-based advocates are tasked with ensuring that those rights are known and upheld throughout the criminal justice process. Victim Advocates also assist in providing resources to victims such as, court hearing notifications, court hearing attendance/preparation and education, emotional support and other victim needs. Here is what she had to say about Women's History Month:
Why is Women's History Month important to you?
From the settling of our Great Nation, women have been the overlooked and underappreciated catalysts, with our incredible contributions, sacrifices, talents, and most importantly, love. Women are essential to all things living, and Women's history month helps to remind us of this. It also celebrates the beauty and strength, and blessing of women.
What women do you draw inspiration from?
I am inspired by the free-spirited, unapologetic women who embrace their individuality and chase their happiness. I draw inspiration from every single woman I have had the pleasure of interacting with, my superiors, my friends, but most importantly, the over 5,000 courageous, ambitious, empathetic and pardoning women I have met throughout my career. They have ALL taught me and inspired me to do a little better.
What does it mean to be a woman in law?
Women bring a much needed balance to every situation, especially in law. New Mexico needs the most intelligent, gifted, and emotionally mature people in positions of law. Women have fought hard and earned the right to be seen as equals in the legal field, especially as they have had to fight twice as hard to be acknowledged as more than just a pretty face. Women are incredible examples of survival and no matter what position women are in – they teach you resiliency.