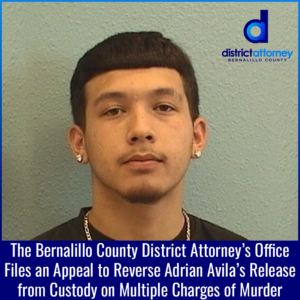 The Bernalillo County District Attorney's Office Files an Appeal to Reverse Adrian Avila's Release from Custody on Multiple Charges of Murder
The Bernalillo County District Attorney's Office Files an Appeal to Reverse Adrian Avila's Release from Custody on Multiple Charges of Murder
Albuquerque, N.M. – Today the Bernalillo County District Attorney's Office filed an appeal with the New Mexico Supreme Court challenging the District Court's ruling which denied pretrial detention for Adrian Avila who stands accused of committing two homicides over a six month period.
In its motion to detain Avila, the State noted that "[t]he Defendant is exactly the type of criminal defendant for whom the voters authorized pretrial detention by adopting the amendment to Article II, Section 13 of the New Mexico Constitution. He is also exactly the type of defendant that had been detained in New Mexico for over a century before the voters expanded pretrial detention in 2016."1
"When the voters of New Mexico passed a constitutional amendment that eliminated cash bail in this state they were promised that judges would use their discretion to hold the most violent offenders in jail," said District Attorney Raul Torrez. "Unfortunately that promise has not been kept and I doubt very much that the citizens of this state would have approved that constitutional amendment if they thought that people like Adrian Avila would be put back on our streets."
District Attorney Torrez also noted that the New Mexico Legislature failed to address the revolving door during the last legislative session. "My office put forward a common sense solution to help guide the court's decision making process when evaluating whether to release accused murderers like Adrian Avila, but unfortunately the legislature rejected that approach," Torrez said. "I respect their right to come up with a different proposal to fix the revolving door, but I do not accept their unwillingness to acknowledge that this is a problem or their failure to show leadership on this issue."
While the District Attorney's Office has filed previous appeals to review the release of an accused murderer, this is the first time the New Mexico Supreme Court has been called upon to examine the release of an individual who stands accused of multiple murders. "While the standard of review in these cases favors deference to the District Court's ruling, I sincerely hope the New Mexico Supreme Court will take this opportunity to better articulate the legal parameters of a process that continues to defy common sense," Torrez said.
You can view the State of New Mexico's Motion for Appeal Pursuant to Rule 12-204 here.