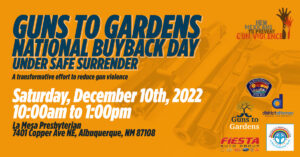 Second Gun Buyback Event Returns to Albuquerque
Second Gun Buyback Event Returns to Albuquerque
National Buyback Events will Happen Across the Country as we Come Together to Recognize the Sandy Hook Anniversary 
Albuquerque, N.M. — Nearly 10 years after the Sandy Hook school shooting, we still feel the effects of gun violence throughout the country. Gun buyback events have been successful in collecting unwanted firearms, lowering the risk of these guns being stolen and allowing citizens to voluntarily give over their guns for a good cause.
We urge any New Mexico resident who has unwanted firearms to attend the second gun buyback event in Albuquerque: 
Guns to Gardens Buyback Event New Mexico
Saturday, December 10th, 10:00-am to 1:00 pm
La Mesa Presbyterian Church
7401 Copper Ave NE, Albuquerque, NM 87108
"The last gun buyback event that my office participated in on June 11th was extremely successful. We helped safely dismantle over 250 firearms, some included AR machinery," said Bernalillo County District Attorney Raúl Torrez. "Unwanted firearms have the potential to end up on the streets in unwanted hands. We want to try to mitigate and prevent events like the one at Sandy Hook Elementary, and other places where people expect to gather safely. Gun buyback events are a step in the right direction to preventing gun violence and we are proud to be involved again." 
"We are excited to partner with the Bernalillo County District Attorney's Office and La Mesa Presbyterian Church for our 17th Guns to Gardens buyback event. Our anonymous survey shows that the majority of participants turning in unwanted working firearms are doing so for safety reasons," says Miranda Viscoli Co-president of New Mexicans to Prevent Gun Violence.
The event is a safe surrender event facilitated by NMPGV and no information is retained on the participant turning in the firearms.  Participants can turn in as many firearms as they like, but they must be in working condition and unloaded.  NMPGV will provide participants gift cards from Walmart, Amazon, Target, Smiths and Chevron Gas in exchange for each firearm turned in.  The value of the gift card is dependent on the firearm turned in:
$250.00 for assault weapons

$200.00 for a semi-automatic handguns and rifles

$100.00 for a long guns and pistols
NMPGV will also be providing gunlocks and gun safety info to gun owners free of charge.
Once the surrender is completed and gift cards are issued, APD personnel will assist with conducting a National Crime Information Center (NCIC) inquiry on the surrendered firearms to ensure they are not stolen.  If a firearm is determined to be stolen, the firearm will be entered into evidence and the rightful owner contacted to retrieve their property.
Firearms will be dismantled onsite and then delivered to students from RFK Charter who are enrolled in SWEPT: Southwest Educational Partners for Training program where they will forge them into gardening tools to be given to community gardens. Rawtools (an organization who dismantles firearms and turns them into useful, safe tools) will teach the RFK students how to forge the gun parts at a separate forging event in January.
This is a drive thru event only and participants must remain in their vehicles. All weapons must be placed in the trunk or rear section of the vehicle. A special thank you to Fiesta Auto Group for helping sponsor this important event.
About New Mexicans to Prevent Gun Violence Gun Buyback Events
This is the 17th buyback New Mexicans to Prevent Gun Violence has conducted since 2016. Out of the 1000+ guns they have dismantled, over 35% have been semi-automatic handguns, semi-automatic rifles or assault weapons.  Their anonymous survey shows that 63% of participants turn their guns in for safety reasons.