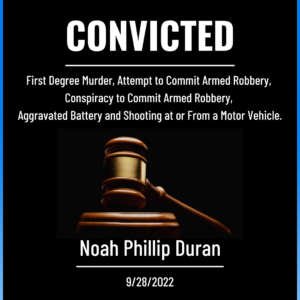 Noah Duran Found Guilty of First Degree Murder for the Shooting Death of 22-Year-Old Elijah Mirabal
Albuquerque, NM – This afternoon, a jury found Noah Duran guilty of first degree murder, attempt to commit armed robbery, conspiracy to commit armed robbery, aggravated battery and shooting at or from a motor vehicle. Duran could be facing up to 30 years in prison as a juvenile. This case was retried after a hung jury verdict back in May of this year.
On October 20, 2020 a 911 call came into the Albuquerque Police Department Dispatch Center from Zachary Henderson who stated that he had been shot in the leg. Moments later a second call came in from another individual stating that a second male, Elijah Mirabal, had been shot in the head. Investigations and evidence pointed to Duran and Jaden Sandoval as they intended to rob Mirabal when they used Snapchat to set up a drug buy with him. The encounter to purchase drugs happened after Mirabal produced a bag of cocaine, the two produced weapons and said they were robbing him. Duran fired 16 rounds from a .300 Blackout AR-style rifle, striking Mirabal with up to 10 gunshots, including one to the head. 
As stated in closing arguments made by Deputy District Attorneys Guin Ice and John Duran, "what we have is a spider to a fly. The evidence points to this being a drug rip-off, that's what this is, that's why the defendant shot Elijah."
"After re-evaluating this case, we decided to retry it based on the strength of the evidence and the need for justice for Elijah Mirabal and his loved ones," said District Attorney Raùl Torrez. "As my team stated in closing arguments 'this case is an exercise in reason and common sense.' We hope this verdict is an example to our youth and community that drugs and guns are an obvious cocktail for unnecessary tragedy."