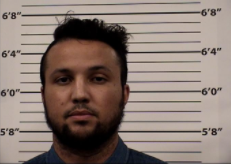 John Dent Found Guilty of First Degree Kidnapping, Rape, and Aggravated Battery
After a six-day trial, a jury found John Dent guilty, on all six counts, of first degree kidnapping, criminal sexual penetration, aggravated battery against a household member (strangulation), aggravated battery against a household member (great bodily harm), bribery of a witness and interference with communications. In early 2020, Dent held his then-girlfriend in his home for two and a half days against her will. During this time, he brutally beat and sexually assaulted her. 
The victim testified early in the trial and recounted the horror and abuse Dent inflicted upon her before she was able to escape with her one-year-old child. 
"I hope today's verdict sends a powerful message to anyone in this community who engages in violence against women and children," said Raul Torrez, Bernalillo County District Attorney. "These cases are extremely difficult to present, in part because our system puts victims through the ringer and fails to protect them from unnecessary trauma of repeated pretrial disclosures and interviews. But I am extremely proud of our prosecution team and the victim for standing strong and fighting for justice."
Dent will face a minimum of 18 years and up to 29.5 years in prison. His sentencing is scheduled to happen in six weeks.