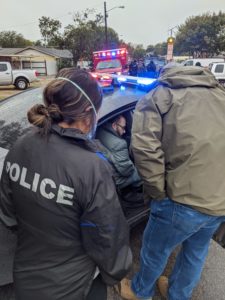 District Attorney's Crime Strategies Unit Discovers Multi-State Sex Trafficking Ring Targeting New Mexico Victims
Albuquerque, NM – Two men have been federally charged for buying and selling a 19-year-old Santa Fe woman and using Albuquerque as the transportation hub.
Alfonso Orozco Juarez (Texas), 35, and Robert Hubert (South Carolina), 66, were charged with conspiracy to commit sex trafficking after Juarez, who contacted the Santa Fe-based victim via a dating app in 2019.
A local health care worker in Albuquerque noticed the signs of a human trafficking victim with help from her family, and contacted the Bernalillo County District Attorney's Crime Strategies Unit (CSU) for help. CSU conducted a 4 month investigation and discovered the two men primarily involved in the New Mexico victims trafficking. After using a gun to force the victim into slavery, Juarez sold the victim for $5,000 to Hubert, who later drove her to his South Carolina home.
Homeland Security Investigations assisted in completing the investigation in Texas and South Carolina based off of CSU's work.
"The Crime Strategies Unit will continue to prioritize human trafficking investigations in Albuquerque. No matter where sex trafficking takes place, CSU is committed to finding, rescuing, and investigating the victimization of the sons and daughters of New Mexico," Kyle Hartsock, Special Agent in Charge of the Bernalillo County District Attorney's Special Investigations Bureau said. "Thank you to the North Texas United States Attorney's Office and HSI for their prompt attention to working this case with us."
If convicted, both face up to life in federal prison.
Read the U.S. Attorney's Office of the Northern District of Texas here.
About the Crime Strategies Unit
CSU was created by District Attorney, Raúl Torrez, to bring innovative ideas and modern tools to complex criminal investigations. In addition to human trafficking, CSU also investigates cold murder and sexual assault cases using genealogy, open murder cases in the Bernalillo County area, and many other crime types that assist the prosecutors in keeping the community safe.
. . .
Contact:
Brandale Mills Cox, Ph.D.
Communications Director
Office of the Second Judicial District Attorney
520 Lomas Blvd NWAlbuquerque, NM 87102