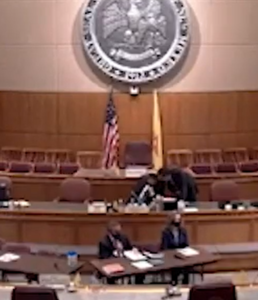 District Attorney Raúl Torrez Responds to Legislative Finance Committee Memo
Today Bernalillo County District Attorney RaúlTorrez sent a response letter to the Legislative Finance Committee and other public officials correcting a number of mistakes contained in a memo sent to lawmakers last Monday.
"Over the past seven years, police and prosecutors have repeatedly warned policymakers not to open a revolving door for violent criminals, not to create additional procedural obstacles for those of us on the front lines, and not to redesign the criminal justice system without regard for available resources. Those warnings have been repeatedly disregarded by the courts and the legislature and now – to add insult to injury – analysts for the Legislative Finance Committee have produced an inaccurate report which seeks to blame those same front line professionals for the very systemic failures we have fought so hard to prevent," Torrez said.
"Not only does the report mislead policymakers and the public about the real conviction rate, declination rate and dismissal rate within the Second Judicial District Attorney's Office, but its utter failure to analyze the competency and sufficiency of pretrial supervision, the catastrophic impact of the Case Management Order (CMO), and the resource implications of eliminating the grand jury reveals that the analysts have no grasp of criminal procedure or practice," Torrez added.
In the last year in which a majority of cases have been closed, the District Attorney noted that felony defendants charged by the Bernalillo County District Attorney's Office were convicted 83 percent of the time, while only 16.4 percent were dismissed and 0.2 percent acquitted. The response submitted to lawmakers also highlighted the fact that two-thirds of the dismissals were driven by lack of witness and victim cooperation – a problem that increases substantially when defendants are released back into the community.
"It is extremely disappointing that misleading data and flawed analysis would be used to discredit the work of my office," said Torrez. "Even with the multiple barriers that have been placed in our way to effectively prosecute criminals in Bernalillo County, we have successfully increased the conviction rate while also offering more diversion programs to non-violent defendants, noting that the office has increased its diversion for non-violent offenders by 160 percent over the past two years."
In addition to the misleading data presented to lawmakers, the District Attorney also noted the analysts' "apparent indifference to asking basic questions about the competency and sufficiency of the current system of pretrial supervision in Bernalillo County." A comprehensive review of this important public safety topic should at least attempt to ask the following questions:

1. What's the failure to appear (FTA) rate in Metropolitan Court and the Second Judicial District Court?
2. How many defendants are currently out of custody with multiple felony cases?
3. How many defendants does each pretrial services officer supervise?
4. What does "supervision" actually mean? How often do they confirm residence, employment or compliance? How many failures to comply before they recommend revocation of conditions?
5. How many times do judges place felony defendants back into the community even after they have violated their conditions of release?
6. Has the revocation rate for felons who have violated their conditions of release changed over time? How does the revocation rate compare to other jurisdictions?
7. What steps does the Court take to locate defendants who fail to appear in court? If they notify law enforcement about a defendant's failure to appear, how timely is that notification and what level of detail is provided to law enforcement?
8. Do local law enforcement agencies have sufficient capacity to apprehend fugitives and engage in proactive community policing?
9. Why did the District Court fail to supervise the highest risk defendants (those placed on GPS monitors) on nights and weekends?
10 Why has the District Court refused to provide historical GPS data to police and prosecutors, particularly in light of the high rate of unsolved crimes in the community?