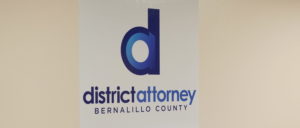 Community Update: April 25, 2018 Case Review and Declination of Juan Saucedo Sr.
The District Attorney's Office shares the community's outrage and sadness over the tragic shooting death of Washington Middle School student Bennie Hargrove. While we await a formal referral from the Albuquerque Police Department, we want to assure the community that we intend to hold the accused shooter accountable for his actions and examine whether others may be held criminally liable for allowing this young man to have access to the murder weapon. 
In response to these events, there has also been renewed interest in our decision to decline to prosecute Juan Saucedo Sr. for his involvement in an altercation in front of Highland High School in 2018.  Despite the fact that the community is understandably concerned about how the tragic death of Bennie Hargrove may have been prevented, it is clear that the facts and evidence presented to this office in the prior case did not support charging him with a crime and could not have served as a basis from preventing him from possessing firearms in the future.
Multiple eye witness accounts and video evidence reviewed by the office conclusively established that Alex Placencio – not Juan Saucedo Sr. – was the first aggressor in the altercation that occurred on April 25, 2018, in front of Highland High School and that Mr. Saucedo only produced a firearm after he was struck multiple times with an aluminum baseball bat and knocked to the ground. After reviewing all of the available evidence a team of career prosecutors unanimously concluded that his use of a weapon under these circumstances was justifiable. Moreover, as the altercation occurred on a public roadway, it was likewise determined that Juan Saucedo Sr. was not subject to criminal prosecution for bringing a weapon onto school grounds. 
While the District Attorney's Office shares the community's concern about what led up to the killing of Bennie Hargrove and is committed to working with policy makers in Santa Fe to evaluate what legislative changes might be made to prevent these tragedies in the future, we are also committed to continue applying the law fairly and impartially.